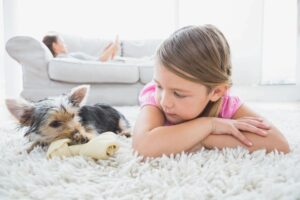 FAQ #1 How Long Will The Carpet Take To Dry? 
This is the most asked FAQ.  Our process was created to leave carpet thoroughly clean without unnecessary moisture.  Dry times vary with style of carpet, fiber type and environmental conditions.  Carpet is generally dry to the touch within 2-6 hours.    Air needs to be circulating in order for your carpet to dry.  Please leave all ceiling fans running and your furnace fan running continually by turning the Fan setting on the thermostat from Auto to On.  Running the air conditioning in warm weather or heat in cool weather will reduce relative humidity, speeding the drying process.  Turn off humidifiers for 48 hours after carpets have been cleaned. We recommend you wait 24 hours before moving furniture back after cleaning.
FAQ #2 How Long Before We Can Walk On It?
Our cleaning products are non-toxic and safe for kids and pets in occupied homes.  Light traffic is okay immediately after carpet cleaning.  HARD SURFACE FLOORING ADJOINING AREAS BEING CLEANED MAY BE SLIPPERY!      Avoid tracking soil onto damp carpet.  Some dark soled rubber shoes may leave marks on damp carpet.
FAQ #3 What Is Carpet Protection? 
We offer carpet protection because it can extend the life of carpet and stop stains from becoming permanent.  All new carpet comes with a factory applied  protection and most manufactures recommend reapplying protection every 2-3 years. The best time to apply protection is immediately after professional cleaning.
FAQ #4 How Should I Maintain My Carpet?
Having a carpet maintenance program in place preserves appearance level,  improves indoor air quality and protects your investment.  Traffic lanes should be vacuumed on a weekly bases to remove dry soil particles.  Ask us about   purchasing spot removers to safely deal with accidents. Heavily used carpeted areas should be cleaned every 6-12 months depending on use and lifestyle.  Infrequently used carpet should be cleaned every 12 to 24 months.  We recommend reapplying carpet protection after every other carpet cleaning   service.  Ask us about a discount for scheduling your next carpet cleaning service in advance.
Our Northeast Kansas Service Area:  Douglas, Jefferson, Johnson, Leavenworth & Shawnee Counties.  Including Cities of Baldwin City, De Soto, Eudora, Lawrence, Linwood, McLouth, Oskaloosa, Ottawa and Tonganoxie.  A travel charge will be added for service outside of  Douglas County.